Turnitin
1 Year
Shared
Turnitin's plagiarism search accuracy is about 93.5% on average, and the results mostly vary from 90% to 97%.
This includes papers where Turnitin can cross-check for similarities, originality, and plagiarism.
Of course, even though Turnitin can scan for similarities, it has a very small error margin since it is very clever at finding true similarities without having the common phrases and saying interfere with the search.
Turnitin is a plagiarism checker service available through institutional licenses.
In other words, schools or universities purchase the plagiarism tool and make it available for their teachers and students to use.
And with 58% of students admitting to plagiarizing content at one point in their academic career, these plagiarism checkers come in handy.
Moreover, since its initial launch in 2000, Turnitin has been dedicated to upholding the "integrity of global education."
Not only does Turnitin emphasize integrity, but they also aim to make original thinkers out of all students who use their program.
As a result, the company has grown from a simple copy-and-paste plagiarism checker to encompass multiple interfaces to achieve its mission.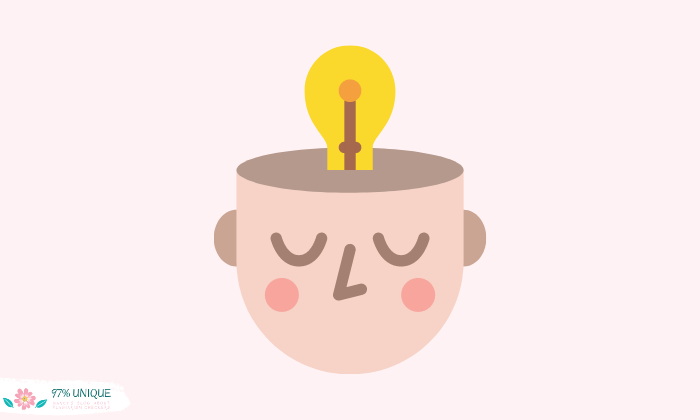 Nowadays, Turnitin consists of:
Originality: Assesses the originality of a student's work and checks for any possible plagiarism bypassing techniques.
Gradescope: Lets instructors grade and deliver student's work using dynamic rubrics and AI-powered algorithms.
Similarity: Checks student work against submissions previously submitted to Turnitin using comprehensive color-coding and filters.
iThenticate: Aids researchers in evaluating the originality of their research and collaborating with their peers.
Feedback Studio: Lets instructors leave feedback for students and analyze their progress.
And with a database of over 91 billion indexed web pages, you could say that Turnitin is pretty accurate.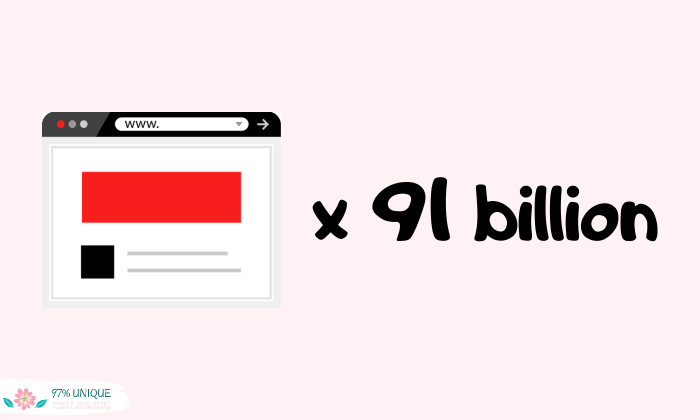 Turnitin's comprehensive algorithm crawls the internet and collects information from billions of websites that could be copied — pretty impressive.
That's not to say it doesn't come with its controversy, however. While some praise Turnitin for its in-depth and complex plagiarism-detection, others find it problematic.
Their main reason? Turnitin keeps students' work in order to scan them against other papers, meaning once a student has turned in a paper, they lose control of their work.
Turnitin states that they keep the work to ensure their system provides the most accurate feedback for students and instructors alike.
While all arguments are worth considering, Turnitin aims to uphold its integrity and provides one of the best plagiarism-detecting services on the internet.
Turnitin Price
If you want to buy Turnitin subscription you need to get more information about the cost of Turnitin plagiarism software. So the next big question is what is the Turnitin price?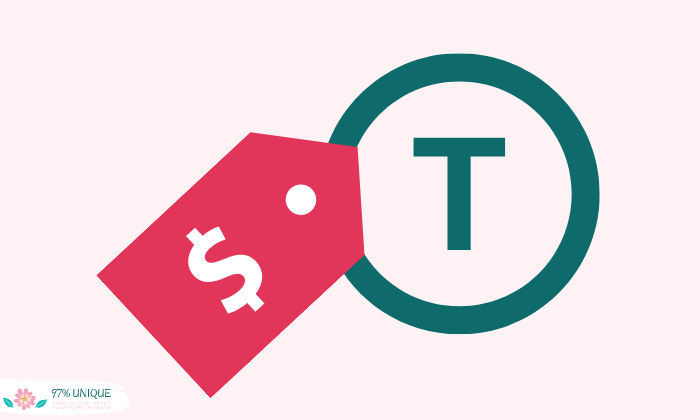 Turnitin offers institutional licenses for schools and universities but does not sell individual licenses (at least so far).
However, the company does not reveal Turnitin pricing model on its site. This is in contrast to other plagiarism checkers, which you can read more about here.
In order to get a price, institutional representatives must contact a salesperson to receive a quote. From there, they can decide whether to go through a purchase.
Despite the site not listing its prices, some educational institutions have announced the site's pricing for transparency purposes, including Kent State University. So how much does turnitin cost?
On the University's website, Turnitin is listed as $3 per student annually.
The price for other similar plagiarism checkers varies across the board.
For instance, big competitor UniCheck starts at $5 and alternative competitor Copyscape at $10. Of course, each plagiarism checker varies in its features and capabilities.
So, Is Turnitin Worth the Cost?
Considering many educational institutions in the U.S. and abroad use the online tool, the answer for many has been a resounding "yes."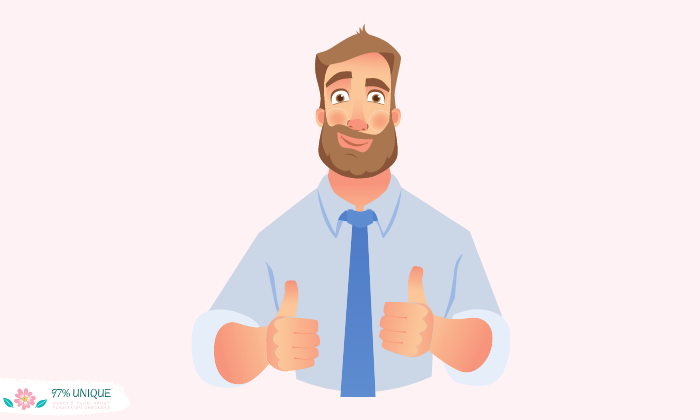 What I think makes Turnitin the go-to is its Feedback Studio, in particular. Over 15,000 institutions use the tool.
With this tool, Turnitin turned a plagiarism checker into a full-on academic service program in itself.
This program allows instructors to take their feedback to an entirely new level by saving them an enormous amount of time in completing routine grading tasks.
Teachers can make voice comments, drag-and-drop instructions, and utilize a simple-to-use grading rubric scale. Gone are the days of individual grading.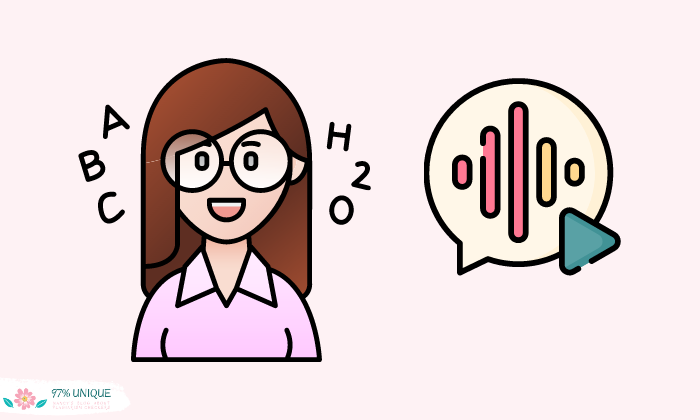 Such ability gives instructors time to focus more on what matters, including their students' progress over time.
In that sense, Turnitin does succeed in its mission to focus on making more educated and original-thinking students.
On the other hand, there is the downside of "false positives," or text Turnitin marks as plagiarized but is actually taken out of context.
This is a fault of many plagiarism checkers, as computers can't always understand the nuances and context of human writing or speech.
Still, for its price of $3 per student, Turnitin's accuracy is well worth its cost for educational institutions, thousands of them buy Turnitin subscription.
Testing Results
Turnitin seems to have the biggest database among all the plagiarism finders. That being said, I felt a little silly challenging the software to run through a simple duplicate of a Wikipedia page. Indeed, the report said the text is 100% similar and showed 18 matching sources.
Mixing characters from different alphabets is proved to be quite challenging for Feedback Studio. Once again, it detected the original sources, but the similarity index dropped from 100% to 78%, even though the text remained the same.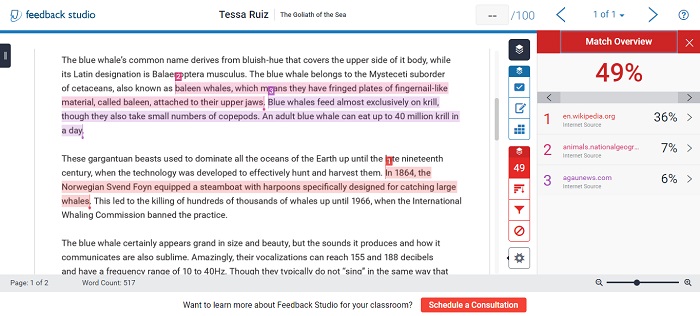 For the third run, I rephrased the passage omitting a few words and replacing others with synonyms. This time, the software highlighted some unaltered phrases and gave the document a 56% similarity score. By clicking on the given links, I was able to compare the submitted text to the found matches and see where exactly it was modified.
Turnitin hasn't faced any problem identifying an original source for an extract I copied from a PDF book. This must be due to the tremendous database containing academic works, journals, and publications.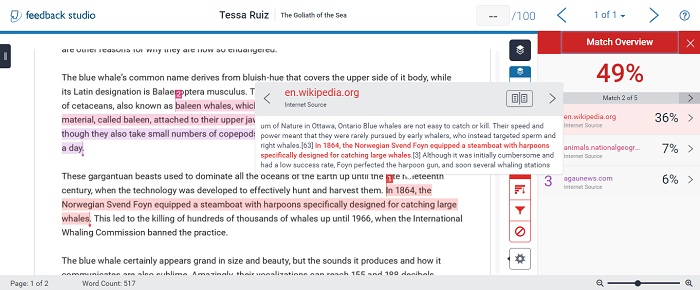 1 Year Shared ID
User & Pass Will Be Provided